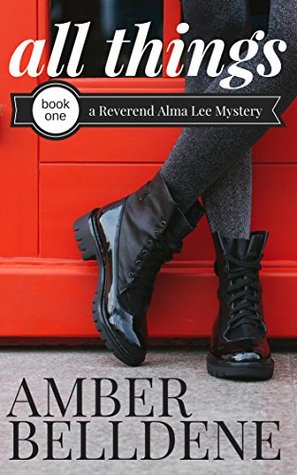 A priest and a rabbi walk into a lesbian bar…
If something is unjust in San Francisco's Mission District, the Reverend Alma Lee will face it down. She leads her vibrant church of St. Giles' with compassion and sass. Her busy days involve match-making, meddling, and saving the city's beloved lesbian landmark, The Carlos Club. Alma meets the intriguing Rabbi Naomi Cohen there, and she's smitten.
Death comes to the church's door…
When the proprietor of The Carlos Club turns up dead on the steps of St. Giles', Naomi's brother is the number one suspect. She needs help exonerating him, and Alma's knowledge of the neighborhood makes her the perfect priest to solve the case. If only Alma's ex-boyfriend, homicide detective Cesar Garza will accept her help. She still feels the pull of their old connection, but she's convinced the sexy-smart rabbi is her perfect mate. . . Too bad Naomi is playing by different rules.
Can Alma solve the case before the murderer silences her forever?
Alriiiiight, breaking out of my usually-YA mould! I went into this not really knowing what to expect, but hoped for something really great.
Sadly, it fell a little flat for me.
But first, the positives! There was wonderful representation. I mean we have a biracial and bisexual narrator, who openly talks about her former relationship with the head detective on the murder case. She's also very open about her crush on Naomi Cohen (I'll get back to that in a bit).
Alma is honestly a super-pastor. She's all about helping. That's really refreshing to me, as many times those in religious positions tend to be portrayed as helpful to only those in their church.
She's also super-vegan, but not in a way that makes the reader feel judged for not being one. (I do want one of those blueberry muffins she mentions a few times.)
Alma would 100% be a Hufflepuff.
Now, for the not-so-rad parts in my opinion.
The book is written in a very conversational tone. That's not exactly my bag, but it doesn't really affect this review. Just throwing that out there in case it bothers you!
The mystery aspect was pretty decent, so it's not really a negative. But it was a bit predictable. It definitely falls under the cozy mystery umbrella, which is fine! Those are great fun, and that also doesn't affect my review.
I mentioned that Alma is biracial, but we don't know that until about halfway through chapter four. Parts of this story just dragged along, while other things were just glossed over briefly, making it kind of an exhausting read.
Finally..good lord, all Alma could focus on was trying to get into Naomi's pants. Like, one of her best friends is MURDERED and lying DEAD on her church's front steps, and she's like, oh man I wonder what Naomi's luscious lips would feel like on mine. It's too much for me.
Overall a decent read, but not mind-blowingly awesome, I give All Things 3 out of 5 tofu scrambles. Thank you to NetGalley and BookBuzz.net for providing a copy for review. You can find it in the Kindle store on September 9th.